Yorkshire League
Squash Stories
---
The Avril Storey Interview - "It's the coaches, the clubs being so welcome and the passion in the game that resulted in us choosing squash over netball, football and music"
All sports are challenged by how juniors progress, the pyramid of sport illustrates that only the very few make it to the top, but how do you support your child/children to get there? what does your road map to success look like for them? Its important that families look beyond the clubs their children are being coached to see what else is out there that can help them progress. We talked to Avril Storey who is Mum to Polly and Grace Clark about her experience and asked her what advice she would give others.
How did you become a squash family?
After losing my parents, I was at a party where someone suggested the girls tried squash with Gill Topliss at Pontefract. Well I wanted to try first so I thought I would give it a go. Whilst Gill put me through my paces, the girls started squash with Jayne Robinson and very quickly Malcolm saw them and invited them to training. The girls were musical and very sporty. Their school (Ackworth) had already awarded them sports scholarships. They were playing the classic team games for netball and football and already invited to trial in county netball.
So what got them playing squash over netball, football and music?
It's the welcome we got from the community and the coaches. The great thing with squash is that we had no background in playing it, but we were welcomed by the community. At times it wasn't easy to know what was available beyond the club but I think that has now changed. Players and parents are welcomed into so many clubs around Yorkshire, there is so much going on. (Barnsley, Pontefract, Skelmanthorpe, Hallamshire, Harrogate). As a parent you have to look and see where your children are happy and where there is a positive and encouraging environment for them to enjoy the game. It's the coaches, the clubs being so welcome and the passion in the game that resulted in us choosing squash over netball, football and music
When is a good age to start squash?
Well the girls at 5 first saw squash at Pontefract when I took them there for dance lessons, and they asked to play squash. I said squash is for adults! It wasn't really until they were 10,11 that they really started. They could have started earlier, they could have started later. Squash is for every age I think. The girls have a real passion and enthusiasm for the game, which has been reinforced to them through great coaches in the county – from Morris Unwin and Malcolm to Suzanne Horner and David Pearson. Each coach giving my girls the desire to continue. They played county squash from an early age and it was a real honour for them to represent Yorkshire.
What help did you get from the county, if any?
Coaches – particularly Morris Unwin who said if the girls are passionate about the game, let them follow their dream. He encouraged me to be positive about going further with the game. People – I have met lots of nice people and though my squash is on a back burner, the girls are excelling.
How is it like playing adult squash?
The girls are loving the variety. Polly is doing really well in PSA events. She is a full time player now with 2 really good regular coaches. Grace is at Nottingham Uni on a squash scholarship, loving the facilities and opportunities for development. She is very committed to her university, playing PSL for them, as well as giving 100% to her course, her squash and her friends.
Is there a classic sibling rivalry?
Oh yes. After the County U19 champs final. I didn't want to go home that night – Polly won it but Grace is ranked higher. The difference is in the mindset of the player at the time of the match. I believe in achievement and competition. Life is competitive and there is no shame in saying you are. If you are passionate you can achieve – I am competitive and so are my children.
What has been the most challenging elements of the journey as a parent?
As a parent and non-player I didn't realise what was available to support the children outside of the club and the right pathway for them. We were fortunate we could understand the county because we knew Morris Unwin and he helped us. It would be good to have more communication with parents from the county and greater transparency.
What advice would you pass on to other parents?
• Look at what is available locally
• Speak to someone in the squash world
• Consider the benefits of squash - all year round, an opening to university, a discipline, a structure to family life – it offers so much
• Start young at one of the many clubs in Yorkshire that focus on group junior coaching – Barnsley, Hallamshire, Pontefract, Queens Halifax, Skelmenthorpe and there is more.
• Don't think you are fixed to one club – look at different clubs
• Have the guts and be strong for your children – what is best for them
• Enjoy squash, be enthusiastic and there are opportunities out there at every level
-------------------------------------------------------------------------------------------------------------------------------------------------------------
Noise, Stairs and Nour El Sherbini - Interview with Asia Harris
During lockdown Hugh Mannerings chatted to Asia to find out how she's been getting on and what her ambitions are for the future, read about the thoughts of one of our top female juniors in Yorkshire and England – the Asia Harris Interview.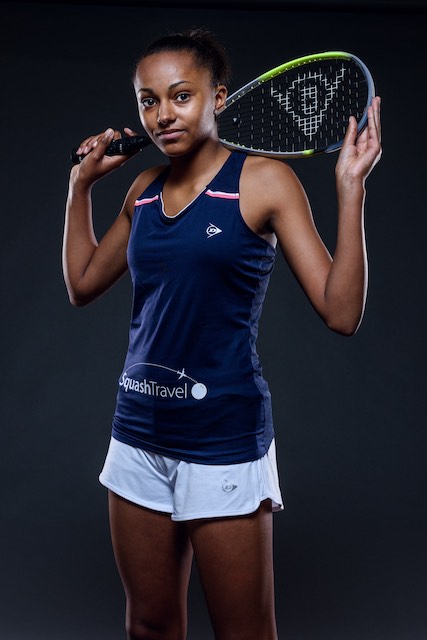 How old were you when you picked up a racket?
Well I picked up a racket at 7 but I didn't really start until I was 9. I was busy doing loads of other activities – dance, gymnastics. My parents wanted me to try lots of sports. What caused you to choose squash? I liked the noise! It was as I was going to dance at Pontefract that I went past the squash courts. I heard the noise of the ball on the wall, I heard people were cheering, and I thought I want to do that.
Do you play other sports?
Oh yes – I had England rounders trials and I love netball
What football team do you support?
Man City – well it's a school thing – we go over as a school and so I support them.
How has lockdown affected your squash?
Apart from no squash I am keeping physically fit with circuits, runs and bike riding. With the England Team we do match analysis which brings me back into the sport. I love doing this as a team. The biggest difficulty is mentally because its tough, keeping motivated. When we train on the squash court its much easier mentally.
What do you miss most in lockdown?
My friends – I just want to see my friends.
Which coaches have impacted your play?
So I started with Malcolm at Pontefract and then moved to David Pearson when I was 10. DP is very technical and regrettably I struggled with this initially so moved away from him. I came back to him at 13 though and have really progressed as a result. On Thursdays I go to Sheffield as part of the NMA Academy with Neil Guirey and Nick. Danny Massaro coaches me and Trez from Doncaster. I have had a great mix of coaches.
As a junior how could the pathway to reach where you are today have been made easier?
I wish I had stayed with DP at 10 and I wish I had taken some of my junior tournaments such as those in Germany more seriously.
How have your parents supported you?
Parents have put their life and soul into the sport. I totally thank them for it. Everyday I am grateful for them. They have given me a good education and a good hobby.
How has your school helped you balance squash and school work?
My school is Ackworth and they have been amazing. I am there all days except Thursday when I go off to Hallamshire for coaching. After school I go to the squash courts to practice.
Who are your role models?
Oh Nour El Shebini – her movement around the court, she makes it look easy, I would want to play her. Tyson Fury is my other role model outside of squash.
Where do you want to be in a year's time and 5 years time?
Top 250 in 1 year ( I am currently 304) and in 5 years top 20.
What has been your favourite match so far?
Definitely my match against Saran Nghiem. I watch the game and analysis it - what could I have done to make this better ? My timing, My Tee position, Could I have moved better to the drop shot? Could I have hit the ball higher?
Does it get lonely playing squash?
No – there is a great squash community, there are always people I know at events, and my coaches and everyone speaks English. So after a match you have your opponent to chat to and see at the tournament. No its not lonely.
In terms of clubs and venues – what would be an ideal club for you?
One with loads of courts like those in America and Germany with 20. And with other facilities such as a pool, a gym, a sauna and a good social area.
What don't you like in clubs?
Stairs 😆
How can YSRA help young people like you?
I would love it if we could do more videos to promote the game with other juniors in Yorkshire – like Sam Todd. Its been great with Dunlop doing these and I would like to do this again. It was fun and exciting.
How can we get more females in squash?
We need to show everyone that squash is not a male sport. Let's bring females together, they need some self-belief because it's such a good game. I would do anything to get more females in.
In terms of social media, how can we better connect with squash players?
Simple... Instagram.
-------------------------------------------------------------------------------------------------------------------------------------------------------------
Mike Clemson - 64 years of squash and still playing for Yorkshire
We thought you may be interested in the squash story of one of the most committed squash players in the county – 64 years of squash. He plays locally in Hull, he represents the county and he is key to the YSRA committee now – Mike Clemson.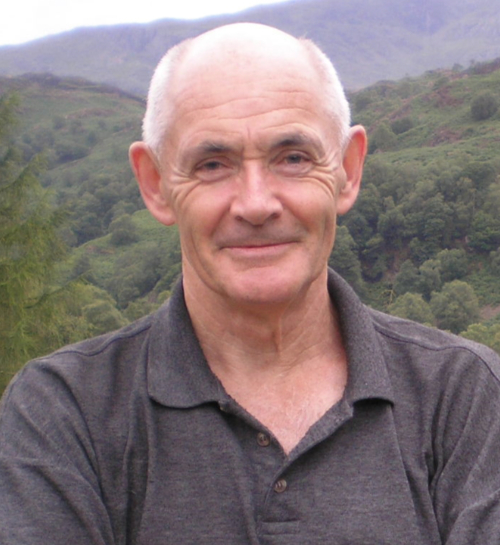 When did you start playing squash Mike?
In 1956 at the age of 14, when the school offered it as an option to rugby. The school courts had no heating and had windows in the roof, so that at certain times you were serving with the sun in your eyes!
What were your first rackets?
Dunlop Maxply Forts, wooden with small heads.
And the balls?
The squash balls then didn't have spots! Maybe someone can recall when graded balls first appeared?
Did you play in all whites?
I started playing in non-whites soon after the regulations were relaxed, but with some reluctance, I still believe that a player in dark colours can obscure the flight of the ball, but that is probably just sentiment for a bygone age!
What is your favourite match?.
I recall lots of favourite matches, with several National and British Open Masters titles, but the best was probably winning the British Open Over 65 title, coming back from 0-2 and 2-8 down (HiHo scoring to 9!) to win in the fifth, saving several match balls along the way. At the other end of the spectrum, I recently played one of our leading juniors in a club mini-league (and lost!). The age gap was 65 years!
What changes have you seen since 1956?
There have been many changes to squash in my lifetime, notably in the design of rackets and shoes and improvements in court design and quality, and changes related to the presentation of the game, such as the scoring system to make matches shorter. But basically the game hasn't changed, it remains a gladiatorial contest between two adversaries locked in a small space with weapons, from which only one can emerge victorious. The similarity to events at the original Olympics makes it incredible that squash has not been accepted as an Olympic sport, but then again, incredibly, I've never seen this used as an argument for inclusion.
What would you say to your 20 year old self?
I would love to go back in time and play my 20 year old self, and say to him 'play to win, but more importantly play to enjoy it'
Where have you played?
I spent many of my younger years as a member of the Hull and East Riding Club, including your occasion when the club team won the Yorkshire League title. But I never played for the club in the local league – in those days, all the players of first string standard shared themselves out among the local clubs with teams in the top division, to even out the competition. So I played for several local clubs. My current and only club is Ferriby Hall near Hull, where I shall be happy to end my playing days, because the courts are warm and well maintained, the club is well run by a voluntary committee, and its members are lovely people.
Who is your favourite player?
My favourite player is James Willstrop, because he epitomises to me the description of the game as Physical Chess. My younger days coincided with Jonah Barrington, but he was just physical!
What was it like playing in the height of the squash craze?
Playing squash at the height of its popularity was amazing and exhilarating. One always thinks that former times were the best, but they were! For instance, Yorkshire League matches, played on Sunday afternoons in the days before motorways and drink driving, often involved setting off on Sunday lunchtime and getting home at 2.00 am. There are many untold stories!
Why squash?
The thing about squash is that it puts people into a situation where they have to depend completely on their own physical and particularly mental resources, and as such it is a great character builder. I make a point of saying to juniors 'Don't look up at your dad when you make a mistake, he can't help you, you're on your own, make the best of it'
What is the future for squash?
I think that, largely because of the efforts to introduce more juniors to the game, it will hold its own, but never again become the populist sport it was in the late 20th century.
Mike thank you for thoughts and memories, for 64 years of squash and for everything you continue to do for squash in Yorkshire.